So, I'm a little under the weather today so I thought I'd just share some 'wise' words on CAW since I am not up to putting a tutorial together.
I started out like 2 years ago, basically just out of curiosity.
The image above was just me teaching myself , with the help of the EA tutorials how to use CAW, and believe it or not, that was when the original Myst world popped into my head. I tried out all sorts of worlds, most never made it out of the sculpting stage though.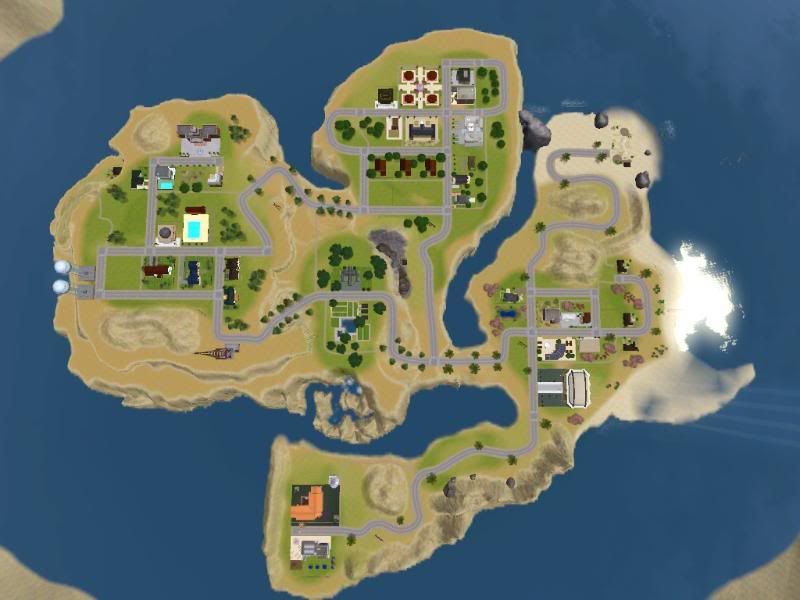 Here is my first real complete world, which I actually attempted to upload on modthesims.com at the time. It didn't make online, sadly ;) And yes, it was also called Myst. Funny thing is, I wasn't planning on making Myst again, but creativity has a mind of it's own (that's a good quote, huh) and finally it's here.
So all this seemingly aimless rambling is just my way of saying, don't be too hard on yourself if your world doesn't seem great. So I offer the following tips when you are feeling discouraged.
1. Just do it - This just means, plow through it. Have a finished version. Even if you are not ready to share. I have a complete playable version of Port Jones on my hard drive, even though I only shared a map only version.
2. If you do get up the courage to share - Just be happy with your efforts and don't take criticisms badly. Remember you can't please everyone and some people will actually love it. And some criticisms help you improve. I got this one comment on the Port Jones post and it said it is a world he loves and has played all year...shocking! I haven't even played it that long. It was one of the sweetest things I had ever read.
3. Be happy with your self and be confident. You made something out of nothing.. That is true creativity. It might only get downloaded by your bestfriend, but hey! so what?! At least it gets to played by someone who loves you.
4. Try and I know this is very hard., but try not to compare your world with the ones that get a million hits. You can learn from them if you like, but don't convince yourself that yours is horrible because it's not as popular. Thinking like that will just make you stop creating. My BFF asked me, when I started out this blog, Who is gonna read it??? and I told her, well...you are :D and I am, and at least I'll be documenting my efforts with CAW. Lord knows I talk to myself alot when designing, so why not write it out. But now, I actually have readers who are gaining something from this blog. Awesome, by the way
Finally, I do want to appreciate my readers and regulars ( you know who you are) or lurker, for the support and encouraging me to keep on keeping on...lol... as I hope I have encouraged you too.
<3<3<3